Discovering, evaluating and choosing which stocks to buy can take a significant amount of time. For this reason, many people choose to use stock picking services, newsletters, subscriptions and sites.
Using these services doesn't mean you're off the hook for doing any of your own due diligence, but they can save you a lot of time. Plus, stock picks from an expert stock advisor are likely more accurate than yours if you're only a novice or intermediate trader.
There are many options for stock advice, so let's go over what to look for in a stock picking service and the top choices you should consider.
Best Stock Picking Service, Subscription & Sites—Top Picks
---
| | | | |
| --- | --- | --- | --- |
| | | | |
| | | | |
| | | | |
| $89 for 1st year; $199 renewal | 7-day free trial. Premium (30% Black Friday Sale): $167/yr.* Pro: $2,400/yr. | $99 for first year; $299 renewal | $99 for first year; $199 per year thereafter |
| | | | |
Best Stock Picking Services
1. Motley Fool Stock Advisor (Best for Consistent Market Outperformance)
---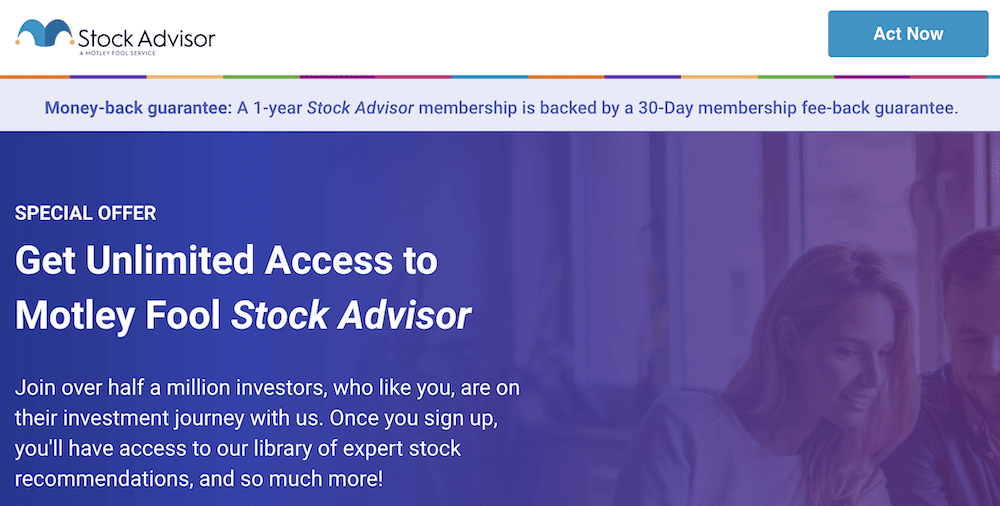 Available: Sign up here
Best Stock Picking Service For: Buy-and-hold growth investors
Price: Discounted price for first year
Stock Advisor primarily recommends well-established companies. Over a decade ago, they advised subscribers to buy companies such as Netflix and Disney, which have been majorly successful.
As a subscriber to Motley Fool Stock Advisor, you're granted access to their history of stock market recommendations and can see for yourself how they have done over the years.
According to their website, the Motley Fool Stock Advisor stock subscription service has returned of 468% since their inception in February 2002 through October 3, 2023 when you calculate the average return of all their stock recommendations over the last 21 years.
Comparatively, the S&P 500 only had a 124% return during that same timeframe.
What to Expect from Motley Fool's Stock Advisor:
The Motley Fool Stock Advisor stock picking service provides a lot of worthwhile resources to subscribers:
"Starter Stocks" recommendations to serve as a foundation to your portfolio for new and experienced investors
Two new stock picks each month
10 "Best Buys Now" chosen from over 300 stocks the Stock Advisor service watches
Investing resources with the stock picking service's library of stock recommendations
Access to community of investors engaged in outperforming the market and talking shop
The Motley Fool Stock Advisor stock picking service has a discounted price for your first year and has a full membership-fee back guarantee. Consider signing up for Stock Advisor today.
Read more in our Motley Fool Stock Advisor review.
Best Introductory Stock Newsletter
Motley Fool Stock Advisor
Motley Fool Stock Advisor provides a list of five stocks they believe deserving of your money today.
Stock Advisor also lists "Starter Stocks" they believe should serve as a portfolio's foundation.
Limited Time Offer: Get your first year with Stock Advisor for $89 (vs. $199 usual value)
Pros:
Discounted introductory price

Strong outperformance above S&P 500

High overall average return for stock picks
Cons:
High renewal price

Not every stock is a winner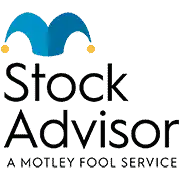 *$89 promotional price for new members only. $110 discount based on current list price of Stock Advisor of $199/yr. Membership will renew annually at the then current list price. Past performance is no guarantee of future results. Individual investment results may vary. All investing involves risk of loss.
Related: Best Brokerage Account Sign-Up Bonuses, Promotions and Deals
1. Motley Fool Rule Breakers (Best for Long-Term Investors Looking for Growth Stocks)
---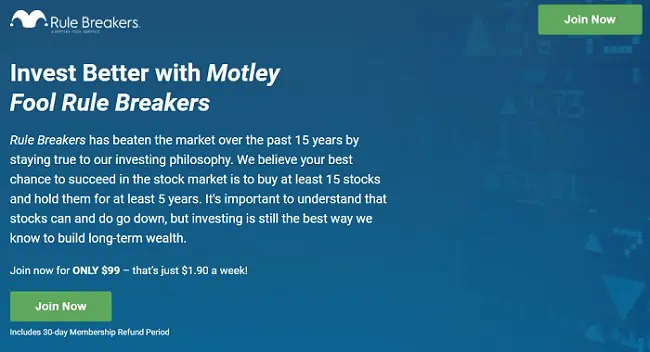 Available: Sign up here
Best Stock Picking Service For: Buy-and-hold growth investors
Price: Discounted price for first year
The main difference between Motley Fool's stock picking services is the type of stock pick recommendations.
Motley Fool Rule Breakers focuses on stocks that they believe have massive growth potential in emerging industries. This stock advisor service isn't fixating on what's currently popular, but rather always looking for the next big stock.
The Motley Fool Rule Breakers service has six rules they follow before making stock recommendations to subscribers:
Only invest in "top dog" companies in an emerging industry – As Motley Fool puts it: "It doesn't matter if you're the big player in floppy drives — the industry is falling apart."
The company must have a sustainable advantage
Company must have strong past price appreciation
Company needs to have strong and competent management
There must be strong consumer appeal
Financial media must overvalue the company
As you can see, before recommending a stock to users, Rule Breakers considers a number of factors. In short, the service mainly looks for well-run companies in emerging industries with a sustainable advantage over competitors, among other factors.
And their rules seem to pay off if their results have anything to say about it.
Over the past 19 years, Rule Breakers has more than doubled the S&P 500, beating many leading money managers on Wall Street through October 3, 2023. Their results speak for themselves and easily justify the affordable price tag for the first year.
What to Expect from Motley Fool's Rule Breakers:
The service includes three primary items you can expect to receive:
A listing of Starter Stocks to begin your Rule Breakers journey with their "essential Rule Breakers"
5 "Best Buys Now" opportunities each month
Two new stock picks each month
You'll receive regular communications from the stock picking service with their analysis and rationales for buying stocks meeting their investment criteria.
If you're unhappy with the service within the first month, you have a full membership-fee back guarantee.
Read more in our Motley Fool Rule Breakers review.
Growth Stock Recommendations
Motley Fool Rule Breakers
Motley Fool Rule Breakers is an investment advisory service that provides insight and recommendations on potential market-beating growth stocks
Picks are centered around emerging industries in an attempt to pick tomorrow's stock market leaders today
Pros:
Strong performance track record

Discounted introductory rate

Consistent outperformance of S&P 500
Cons:
High-growth stocks carry volatility

High renewal price

Not every stock has positive returns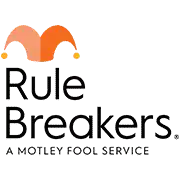 *$99 promotional price for new members only. $100 discount based on current list price of Rule Breakers of $199/yr. Membership will renew annually at the then current list price. Past performance is no guarantee of future results. Individual investment results may vary. All investing involves risk of loss.
Related: Motley Fool Stock Advisor vs Rule Breakers
3. Motley Fool's Everlasting Stocks
---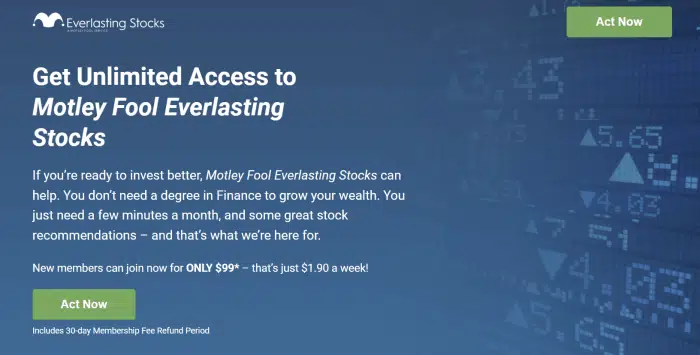 Available: Sign up here
Price: Discounted price for first year
If you'd like access to another Motley Fool stock recommendation newsletter alongside Stock Advisor and Rule Breakers, consider subscribing to the the company's Everlasting Stocks service.
Launched in November 2020, Everlasting Stocks includes stock recommendations pulled from existing Everlasting services offered by the Motley Fool.
Led by Tom Gardner and his team of analysts (Asit Sharma, Auri Hughes, and Maria Gallagher), the team recommends two stocks per month.
The stocks recommended in Everlasting Stocks Stocks fall on the conservative side of the spectrum, and are intended for those with a long-term investing strategy in mind.
In addition to two monthly recommendations, members will also receive: monthly stock rankings, mindset articles, and video features (i.e. live chats, Q&A's with the team, and general stock discussions).
You can expect the following updates for:
First Thursday – Stock recommendation
Second Thursday – Mindset article
Third Thursday – Stock recommendation
Fourth Thursday – Mindset article
Read more in our Motley Fool Everlasting Stocks review.
Long-Term Stock Picks
Motley Fool Everlasting Stocks
High-conviction ideas for your investment portfolio. Everlasting Stocks are stock picks that the Motley Fool's co-founder believes any investor can buy today and hold forever.
15 stock recommendations delivered directly to your inbox at signup.
Gain access to a vibrant investing community.
Pros:
Ideal for long-term investors

Offers discounted introductory rate for first year
*$99 promotional price for new members only. $200 discount based on current list price of Everlasting Stocks of $299/yr. Membership will renew annually at the then current list price. Past performance is no guarantee of future results. Individual investment results may vary. All investing involves risk of loss.
You can also sign up for four Motley Fool stock services (Stock Advisor, Rule Breakers, Everlasting Stocks, and Millionacres: Real Estate Winners) at a significantly discounted rate through the company's Epic Bundle. (We've got the Motley Fool Epic Bundle review here for you to learn more.)
4-in-1 Bundle of Fool Savings
Motley Fool Epic Bundle | 4 Stock Services in One
$299/yr. (22% savings vs. individually subscribing to all four services in first year)*
Motley Fool's Epic Bundle is a discounted combination of four foundational stock-investing services rolled up into one membership.
Get access to the Stock Advisor, Rule Breakers, Everlasting Stocks, and Millionacres: Real Estate Winners subscription services.
Get at least six stock recommendations every month.
This bundled product also includes more than 300 stock recommendations, reports, and analyses from each service.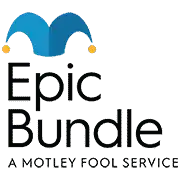 *$299 promotional price for new members only. $200 discount based on current list price of Epic Bundle of $499/yr. Membership will renew annually at the then current list price. $499/yr. represents a 52% savings vs. individually renewing each service. Past performance is no guarantee of future results. Individual investment results may vary. All investing involves risk of loss.
4. Seeking Alpha (Best Stock Analysis Website for Investment Research + Stock Recommendations)
---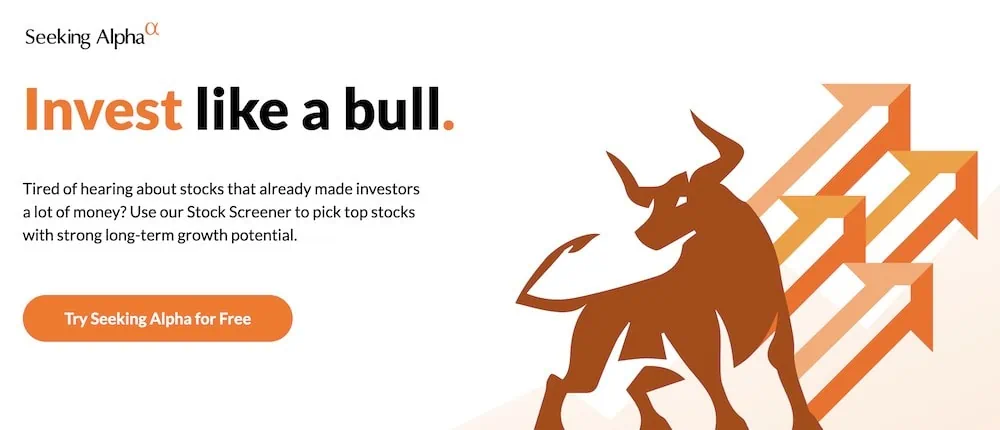 Available: Sign up here
Best Stock Picking Service for: Investment research + stock recommendations
Price: 7-day free trial for Premium and Pro. Premium: $167/yr*. Pro: $2,400/yr.
Even the free version of Seeking Alpha ranks among the best stock research websites. But we're going to specifically highlight Seeking Alpha Premium, which caters to intermediate and advanced investors looking for an affordable, all-inclusive, one-stop shop for their investing needs.
Seeking Alpha itself has more than 16,000 active contributors sharing stock analysis. In-house editors vet these pieces before they're read and discussed by millions of people. Reading different opinions about the same stock helps investors develop their own informed opinions on the likelihood a stock will rise or fall. I recommend this approach when learning how to research stocks.
SA also offers stock research tools, real-time news updates, crowdsourced debates, and market data. Users can create their own portfolio of favorite stocks, see how they perform, and receive email alerts or push notifications about their investments.
However, while the basic SA website has a significant amount of information, some features remain reserved for the Premium Plan and Pro Plan members.
Seeking Alpha Premium
With a Seeking Alpha Premium subscription, you will enjoy unparalleled access with an ad-lite user experience.
SA Premium is an all-in-one investing research and recommendation service that offers insightful analysis, financial news, stock research, and more—all designed to help you make better investing decisions.
Seeking Alpha Premium can help you manage your stock portfolio by putting you in touch with a large investing community—one that can help you research stocks and understand the financial world and provide you with ideas for your next great investment.
Premium plan members can see the ratings of authors whose articles they read. (After all, it's useful to know whether you're reading the opinion of someone with a top record, or someone who's whiffing a lot.) And Premium subscribers unlock analyses from SA-designated "experts."
Among the other benefits:
A stock screener that lets you filter by average analyst rating
Earnings conference call transcripts
10 years' worth of financial statements
Ability to compare stocks side-by-side with peers
Access to dividend and earnings forecasts
How Has Seeking Alpha Premium Performed?
SA's Premium subscription provides full access to the service's Stock Quant Ratings. These are collections of the best (to the worst)-rated stocks according to three independent investment resources provided on Seeking Alpha's website. These cross checks and validations come from: (1) the Seeking Alpha Quant Model, (2) independent SA contributors, and (3) Wall Street analysts. The list of best stock recommendations gets further vetted by quantitative and fundamental analysis.
Look at the dramatic market outperformance seen by these quant-fueled "Strong Buy" stock picks as compared to the S&P 500 (total return with dividends reinvested):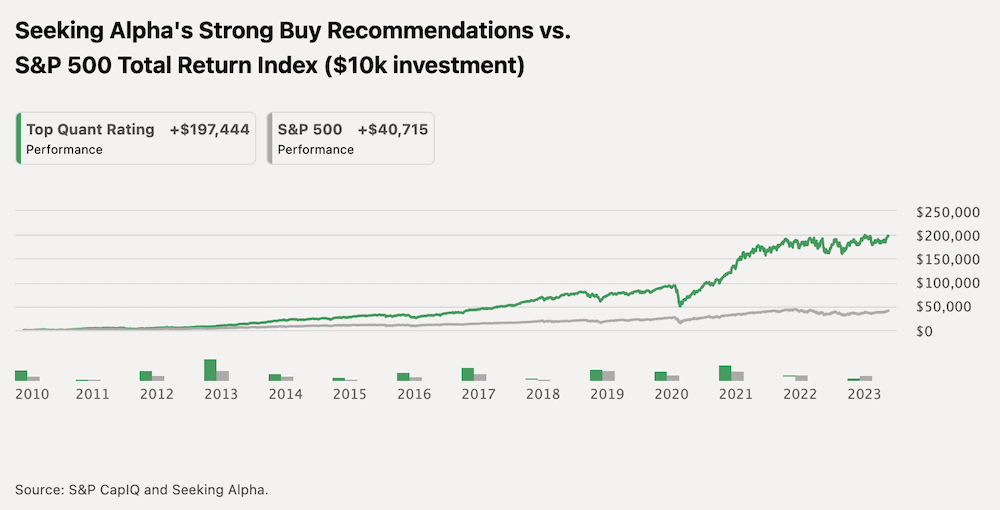 Check out our Seeking Alpha Premium review to learn even more.
Seeking Alpha Pro
A Seeking Alpha Pro subscription includes all of the features offered by Seeking Alpha Premium, then packs on additional services, such as:
The Top Ideas recommendation list
Exclusive newsletter subscriptions and interviews
VIP Editorial Concierge
Seeking Alpha Pro stock screener for investing ideas
A completely ad-free experience
In short: The Pro tier, which is geared toward professional investors, is more expensive than the Premium tier—but it comes with more goodies.
Why Subscribe to Seeking Alpha?
Seeking Alpha distills relevant financial information for you so you don't have to—making it easy for anyone interested in self-directed investing to have a chance at outperforming the market.
Consider starting a free trial to take advantage of SA's Premium services and see if they make sense for your needs.
Stock Research, Analysis + Recommendation Website
Seeking Alpha Premium & Pro
7-day free trial. Premium (Black Friday Special): $167/yr.* Pro: $2,400/yr.
Seeking Alpha has the world's largest investing community.
Seeking Alpha Premium helps you find profitable investing ideas, improve your portfolio, research stocks better and faster as well as track the news to find investing opportunities.
Receive up to 15 investing newsletters filled with stock research and analysis, commentary and recommendations.
Use Seeking Alpha Premium's Seeking Alpha Stock Ratings to find stocks likely to outperform and make you money.
Seeking Alpha Premium's proprietary quant records have an impressive track record leading to massive market outperformance.
Black Friday offer: New subscribers who sign up between Nov. 21 and Dec. 5 receive a 30% discount ($72) off the price of Seeking Alpha Premium.
Pros:
Active community of engaged investors and analysts

Stock screeners, quantitative tools for stock analysis

Strong track record of market outperformance on stock ratings
Cons:
Minimal mutual fund coverage
* $72 first-year discount for first-time subscribers. Renews at regular $239/yr. rate.
Related: Best Seeking Alpha Alternatives [Competitors' Sites to Consider]
5. Seeking Alpha's Alpha Picks (Best Data-Driven Stock Recommendation Service)
---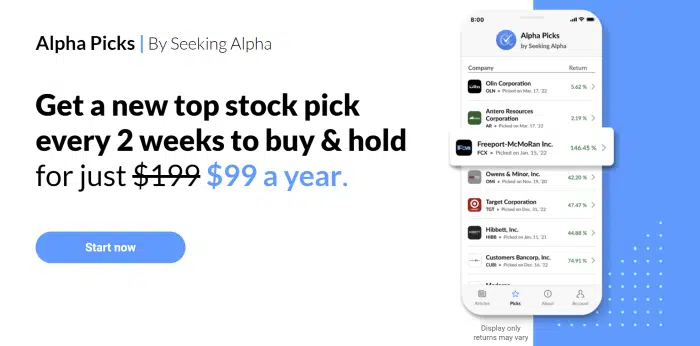 Available: Sign up here
Price: Discounted rate for first-time subscribers
Are you looking for a way to beat the market consistently? Seeking Alpha's Alpha Picks might be a great option to consider.
Alpha Picks is a stock selection service that provides you with two of the best stock picks each month that SA determines have the greatest chance for price upside. They base their selections on fundamentals such as valuation, growth, profitability, and momentum—not hype.
The stock selection process relies on Seeking Alpha's proprietary, data-driven computer scoring system to screen and recommend stocks for more conservative "buy-and-hold" investors.
And if results from their backtest (run from 2010 to 2022) are any indication, historical simulations of the methodology behind their strategy prove it has worked: Alpha Picks' recommendations outperformed the S&P 500 Index by 180 percentage points (+470% for SA vs. +290% for the S&P 500).
A bit more detail about how this works: Alpha Picks relies on the existing Seeking Alpha Quant model available to Seeking Alpha Premium and Pro users, but with a bit of modification. Namely, all recommendations must meet the following criteria:
Hold a Strong Buy Quant rating for a minimum of 75 days
Market cap greater than $500 million
Stock price greater than $10
Is a publicly traded common stock (no American Depository Receipts [ADRs])
Be the highest-rated stock at the time of selection that has not been previously recommended within the past year (Alpha Picks releases one pick at the start of the month, another in the middle).
If you sign up for the service, you can expect the following:
Two long-term stock picks to buy and hold for at least two years, delivered every month
Detailed explanations from Seeking Alpha behind why they rate each stock pick so highly
Notifications when a recommendation changes
Regular updates on current Buy recommendations
The service, designed for busy professionals interested in building a portfolio that outpaces the market but without the time to commit to finding these opportunities, is worth considering. If you're interested, you can sign up for a discounted first-year price of $99.
Data-Driven Stock Picking Service
Seeking Alpha's Alpha Picks | Data-Driven Stock Picks
Seeking Alpha's Alpha Picks is a stock picking service designed for busy professionals who might not have the time needed to select stocks for their own portfolio
Using a proprietary computer-scoring model, Alpha Picks makes "buy-and-hold" picks that last at least two years
Rigorous backtesting has shown Alpha Picks' methodology would have strongly outperformed the S&P 500 index between 2010 and 2022 (+470% vs. +290%)
Pros:
Data-driven, computer-generated stock selection process

Avoids human bias

Strong backtest performance vs. S&P 500 index

Competitive price point
Cons:
Not enough actual performance data

No frills, just stock picks and info about them
* Promotional rate for first year, applies only to new subscribers. $199/yr. renewal rate.
Related: Best Investing Research & Stock Analysis Websites
6. Zacks Investment Research (Best for Fundamental Analysis and Earnings Activity)
---
Available: Sign up here
Best for: Fundamental investors
Price: Premium: $249/year
Zacks Investment Research also sits among the best stock market research websites, delivering a subscription-based service that you can use to improve your own due diligence or lean on for stock selection.
The investment research site has a free service that provides general market data and information about the financial markets and business news. One of its popular features is the Bull and Bear of the Day, where the service selects two stocks and rates them as a Bull (strong buy) or Bear (strong sell) pick.
However, the Zacks Premium service unlocks access to:
The Zacks #1 Rank List to develop your investment strategies
Focus List portfolio of long-term stocks
Custom stock screener
Equity research reports and more
The Portfolio Tracker provides constant monitoring of your stocks to help you decide if you should buy, hold, or sell.
If you want even more firepower, Zacks Investor Collection provides access to Zacks Premium and other services, including ETF Investor and Stocks Under $10. You can try the service for 30 days for just $1. After that, it's $59/mo. or discounted to $495/yr. if paid upfront.
Investors who desire even more information can get Zacks Ultimate. This plan provides even more exclusive services, including Black Box Trader, Blockchain Innovators, Marijuana Innovators, Options Trader, and more. After a $1 30-day trial, Zacks Ultimate costs $299 per month.
Zacks Investment Research | Research to Build Success
30-day free trial, then $249/yr.
Zacks Investment Research offers several research products to provide the information subscribers want to know about market opportunities
Features include: Zacks #1 Rank List, Industry Rank List, Premium Screens, Focus List, Research Reports, Earnings ESP Filter, Zacks #5 Rank List
Related: Zacks vs Motley Fool: Which Stock Picking Service is Better?
7. AAII Dividend Investing (Best Income Investing Stock Picking Subscription)
---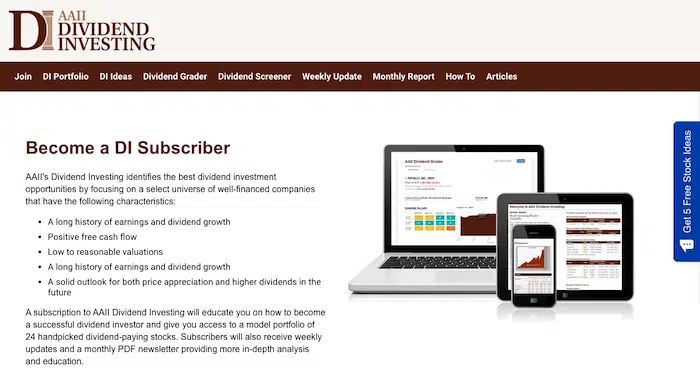 Available: Sign up here
Best for: Dividend growth investors
Price: $2 full trial for 30 days; $199 for 1 year, $359 for 2 years, $399 for 3 years
AAII's Dividend Investing does all the income investment due diligence work for you. With their proprietary stock-screening and picking process, AAII targets stocks that combine yield and asset quality.
The service also analyzes the company's management team to make sure it is committed to dividend payouts — not just for today but for tomorrow as well.
Details:
– Target portfolio includes a mix of both GICS Sector (Consumer Staples; Financials) and Geographical Exposure (US Markets) with an emphasis on equities from sectors associated with healthy cash flows such as Utilities or Health Care Services
– AAII's model Dividend Investing portfolio is managed using AAII's best practices in order to minimize risk while generating higher income potential
Start your full 30-day trial for just $2 and see if it is a worthwhile income investment subscription for you.
Dividend Stock Picking Service
AAII | Dividend Investing
30-day trial for $2. $199/yr.*
Use AAII's Dividend Investing newsletter to build a portfolio of dividend-growth stocks that yield more than the market average.
DI model portfolio stocks are selected based on earnings and dividend histories and projections, cash flow generation, valuation, and more.
Also enjoy weekly commentary, monthly portfolio reports, AMAs with DI's lead analyst, and more.
Service unlocks access to other AAII features, including a monthly AAII Journal, weekly stock ideas, and entry into an interactive online community.

* Promotional rate for first year. $248/yr. renewal rate.
Related: Best Stock and Investment Newsletters
8. Millionacres Real Estate Winners (Best for REIT Stock Picking)
---
Available: Sign up here
Best for: Buy-and-hold real estate investors
Price: Discounted price for first year
It takes only a few minutes to find out whether you need Millionacres Real Estate Winners as your real estate investing guide.
Also one of the many stock picking services from the Motley Fool, this stock picking service focuses on understanding the fast-moving, ever-changing world of real estate investment—and mobilizing you for success with valuable resources, recommendations and picks!
From the stock picking service's easy-to-understand monthly investment alerts that cover REITs and real estate equities traded on the stock market, or the quarterly investment ranking selections—Millionacres aims to simplify investing research and make clear cut cases for why you might consider picks they recommend.
They aim to cover obstacles encountered by savvy or beginner investors by making informed decisions clear and simple—not just possible.
What You Get with Millionacres Real Estate Winners
Millionacres Real Estate Winners is a premium stock picking service for your real estate investing success. You will receive clear, actionable investing ideas and recommendations from this stock advisor service along with specific guidance on getting started in today's market.
The Millionacres Real Estate Winners services offers these resources to subscribers:
New stock recommendations each month you remain subscribed
Regular updates on recommended stocks following earnings and other important events
Quarterly "Top 10 Investment Alerts" ranking real estate investment selections
Education content and resources for you to access
Most importantly, you'll receive monthly stock picks tailored to help you succeed as well as educational content and resources to make sure you get the information you need when starting from scratch.
With successful solutions created by experts in every facet of the business, Millionacres Real Estate Winners has helped investors grow their stock market portfolios and take control of their financial future without costly mistakes or bad habits that lead to undoing all of your hard work.
See if this service makes sense for you now by subscribing today for only $149 for your first year.
Real Estate Investing Service
Millionacres: Real Estate Winners
Real Estate Winners from Millionacres aims to supercharge your wealth, diversify your portfolio and provide consistent and predictable income.
The service provides researched picks on real estate investments and REITs that look to outperform for years to come.
Receive new stock recommendations each month, regular updates on recommended stocks, Top 10 Investment Alerts each quarter and ongoing access to educational content
Pros:
Provides REIT stock picks demonstrated to perform well over time

Offers discounted introductory rate for first year
Cons:
No money-back guarantee offered, unlike other Motley Fool products
* Promotional rate for first year. $249/yr. renewal rate. Past performance is no guarantee of future results. Individual investment results may vary. All investing involves risk of loss.
9. Mindful Trader (Best Stock Picking Service for Swing Trading)
---
Available: Sign up here
Best for: Swing traders
Price: $47/mo
Mindful Trader provides members with stock trade alerts over email and text messages. Users receive around five to fifteen trade alerts each week. All recommendations come based on a data-driven approach. Members have access to the creator's watchlist, his live positions shown in the member dashboard and historical data with the trades conducted since inception.
You can use this paid swing trading stock picking service to take advantage of short-term movements in the market. The service provides trade windows and clear guidance on when to open and or close positions to follow the service's swing trading methodology.
The price is $47 per month and cancelable at any time.
Mindful Trader | Swing Trade Stock Alerts
Use Mindful Trader's statistical edge to earn alpha in the market and create long-term wealth
Data-driven trade strategies that rely on historical probabilities to identify swing trade alerts
Useful for easy-to-follow trade alerts in real-time
10. Tim Alerts (Best for Penny Stock Day Traders)
---
Available: Sign up here
Best for: Penny stock day traders
Price: $697 per year; $1,297 per year for Pennystocking Silver
Penny stocks (typically considered to be any stock that trades for under $1) have a certain appeal because of their low price point and the hopes of making big gains quickly.
However, they're among the riskiest investments you can make. Most don't trade on major exchanges, and thus don't have many of the requirements that protect investors, such as having to regularly report corporate financials.
If an investor is going to delve into penny stocks, then, they'll need an educated guide.
Tim Sykes rose to fame by taking around $12,000 in bar mitzvah financial gift money and day trading it on penny stocks. By the time he'd graduated college, he'd become a self-made millionaire with the intent of teaching others how to replicate his success.
Since then, Sykes has created a stock picking service in addition to providing financial services, educational content, and training to retail investors.
Sykes sends his Tim's Alerts newsletters with penny stock picks every trading day around 8 a.m. EST (5 a.m. PST) with a set of stock watchlists for the day. You can receive this by email, SMS or even push notifications in real time throughout the trading day.
Subscribers also get live chat room access with a paired proprietary trading app. And they can access a library of more than 7,000 videos to train you on how to trade penny stocks and potentially replicate Tim's success.
Our Penny Stock Service Pick
Timothy Sykes | Penny Stock Trading Alerts
Tim's Alerts: $74.95/mo. paid monthly, or $697/yr. (24% discount) paid annually. Pennystocking Silver: $149.95/mo. paid monthly, or $1,297/yr. (28% discount) paid annually.
Use Tim Sykes' weekly videos to become a better penny stock trader.
Pairs with real-time alerts or just a standalone alerts service.
Gain chatroom access, daily stock watchlists, push, email and SMS alerts and more.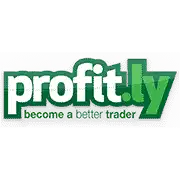 What is a Stock Picking Service, Advisor, Subscription or Site?
---
Stock picking services give their subscribers specific stock recommendations. The services compile and analyze extensive stock data sets such as quarterly earnings, market share and more. By analyzing and providing suggestions of what to buy, they take much of the work out of strategic stock buying.
Often, the terms "stock picking service," "stock picking subscription," and "stock picking site" are used interchangeably. Newsletter often implies emails or physical mail, such as a magazine or newspaper. Subscriptions may range from smartphone apps, to private website access, or also refer to newsletters. Focus less on the terms and more on what different services offer.
Stock picking services and newsletters provide general advice, not personalized advice for individual subscribers. If you want individualized advice, seek out a financial advisor. Materials should be impartial, rather than promotional.
Finally, these services shouldn't make guarantees that any stock will rise.
What Makes a Good Stock Picking Service or Advisor?
---
Take into account the following factors when choosing a stock picking service.
→ Proven Track Record.
Choose a stock picking service that outperforms across long periods. You want a service that chooses investments that earn a great return, meaning better than similar companies or a comparable benchmark index. Stocks fluctuate, so it's essential they choose growth stocks that continue to perform over time.
Transparency is key, both in how the stock picking service works and how they are choosing stocks. Avoid any services with hidden fees or those that seem to have secret sponsors. The stock picking services shouldn't just be telling you what stocks are likely to rise, but why they are likely to rise as well.
Recommendations should be backed up with facts. Services should mention actionable signals, which tell us why a price will move.
→ Replicable Trading Capabilities.
The recommendations made must be replicable by you. Suggested stocks shouldn't be ones only available to institutional investors and you should be able to pay roughly the same prices as the stock picking service. Otherwise, returns won't be the same.
Consider an Initial Public Offering (IPO), which is a stock that recently became publicly traded or will be shortly. Institutional investors may have access to the stock at a lower price right before it hits the market. If so, they will have superior overall returns than someone who buys it a few days later at a higher price.
→ Low / Worth the Cost.
At minimum, a good investment service should pay for itself. You should recoup your subscription costs based on the recommendations the stock picking service provides. Ideally, you make a profit and the higher the profit the better. The lower the price of the stock picking service, the greater your overall profit margin.
Quality of recommendations is more important than cost, but if recommendation quality is equal, the service that costs less will net you more. This lets you buy low and sell high with profit in mind.
→ Educational.
In addition to sending investment picks, the best stock picking services also provide educational resources that teach you how to research and analyze stocks on your own. With the right educational materials, you won't have to be completely reliant on a stock advisor and will be capable of doing your own research.
It's unlikely you have the funds to purchase every recommendation. They provide a shortlist of investment picks and you can teach yourself how to be even more selective.
Should You Buy Recommendations From These Services?
---
If you have serious interest in investing with these stock picking services, I suggest starting small and cautiously with their recommendations.
Consider following along with a paper trading account available through free stock apps. These accounts allow you to place trades without placing actual trades and putting your money at risk. Apps like Webull, a trading app like Robinhood, offer this functionality for free.
By using a free paper trading service, you can test the recommendations of the stock picking service and how they perform relative to the market.
Always Perform Your Own Due Diligence
---
I recommend several services here because you should never let one single source represent your stock investing choices. If you find an interesting stock pick, research it more on your own.
Only after performing your own due diligence should you invest. Consider pairing an investment research service like Stock Rover to your subscription to get more in-depth and objective views of the stocks recommended.
Best Stock Picking Services, Newsletters, Subscriptions & Sites
---
The best stock picking service for you will depend on whether you're a day trader or long-term investor, your level of trading expertise, and your budget for services.
You aren't limited to one service. It's common for investors to choose multiple services to fit different needs. If you're unsure which service(s) is best for you, take advantage of free trial offers.
No matter what service you use, always remember to do your due diligence after reading stock recommendations.