Most of the money you'll make throughout your life will come from the daily grind, the 9-to-5, the cubicle farm, the … well, you get the point. You'll have to earn it. But sometimes, it's nice to earn a little cash with little to no effort—and despite those who say "you don't get something for nothing," there are quite a few ways to get free money.
In some cases, you can earn free money by participating in activities or signing up for products you were already interested in. And in a few select cases, you can earn free money by sitting around and having fun.
Whether you want some extra spending money, want help saving money for retirement, or just hate the idea of missing out on some free money, I can point you in the right direction. Today, I'll highlight several sign-up bonuses, cash-back rewards, and other ways to nab some extra cash—ranging from little sums to, in a couple instances, truly substantial monetary freebies.
So, check out the strategies below. Need a little cash? Try one. Need more? Try a few.
The sooner you get started, the sooner that free money can hit your account!
Top Legit Ways to Get Free Money Now
---
Can You Get Free Money (And Is It Really Free)?
---
Yes, there is indeed such a thing as free money.
That doesn't mean there aren't any strings attached. In many cases, offers of free money are one-time deals that involve, say, signing up for a new account. In other cases, it might involve you continuously committing money to something that you already planned on dedicating funds toward. And in still more cases, the money might not be technically "free," but that money will be paid for spending a little time doing something that requires little or no effort.
How to Get Free Money [Online + Offline]
---
Like I said earlier: You have a wide range of strategies at your disposal to earn free money, both online and offline. They range from signing up for accounts to taking advantage of workplace benefits to extremely low- to no-effort side hustles.
Let's dig in!
1. Investment Account Sign-Up Bonuses
---
First up: Sign-up bonuses for starting an investment account. This is a very common way for online stock brokers to attract fresh customers—most brokers offer some sort of giveaway, though they often change over time. Below are some of our favorite brokerage sign-up bonuses.
Robinhood ($5-$200 worth of free stock)
---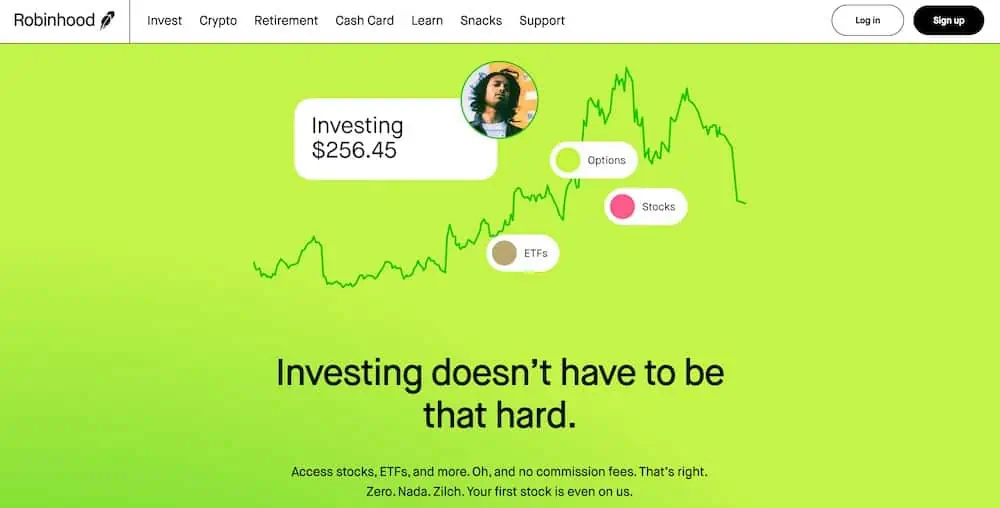 Available: Sign up here
Platforms: Web, mobile app (Apple iOS, Android)
Promotions: Free stock worth between $5 and $200
Robinhood is a pioneer of commission-free trading, jumping into the investing public's consciousness in 2013 when they rolled out commission-free trading. They remain a standout option for cost-minded investors thanks to their continued $0 commissions on stocks, ETFs, and options, as well as for its fractional trading, which allows people to invest with as little as $1.
→ How to get your free stock with Robinhood
Robinhood offers anywhere between $5 and $200 in free stock, just for signing up and linking an account.
Once you've signed up with this link and are approved for a brokerage account, simply link your bank account or debit card, and Robinhood will give you between $5 and $200 that you can use to buy fractional stock, chosen from a list of "20 of America's leading companies."
(Note: You must wait three trading days to sell your gift stock. Once you've sold your stock, you can use the money to buy other stocks right away. But if you want to withdraw the funds for cash, you have to wait at least 30 days.)
Related: 20 Best Investing Research & Stock Analysis Websites
Plynk ($85 Combined Bonus)
---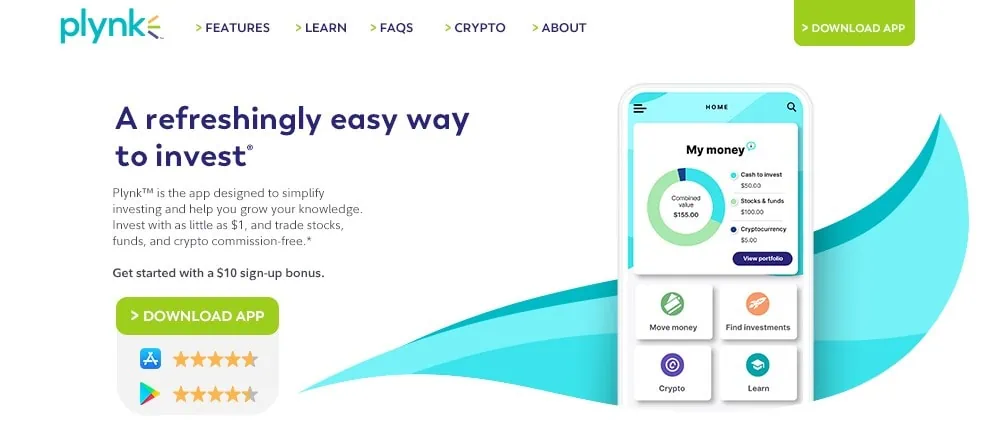 Available: Sign up here
Platforms: Mobile app (Apple iOS, Android)
Sign-up bonus: Earn $10 for signing up; Plynk will also double your deposit up to $75
Plynk™ is an app designed to help you start investing and learn along the way, and they're currently offering a $10 account signup and $75 net deposit bonus ($85 combined).
The Plynk app helps investors put their money into an investment portfolio. You can invest with as little as $1, and trade stocks, fund, and crypto commission-free**—all in one app.
The platform uses straightforward, easy-to-understand language to explain investing concepts. No jargon. No complex charts and tables. Just simple-language tips and how-tos.
Navigate investment ideas with tools to help you explore and choose. With Plynk Explore, just answer a few questions, and the app will display stock, ETF, and mutual fund investments that mesh with your investment comfort zone.
To assist with building your financial literacy, Plynk offers complete lessons and courses on financial education, including tips, educational content and how-tos.
The Plynk app enables you to make use of a powerful investing technique called dollar-cost averaging through participating in recurring investments. By continuing to buy a fixed dollar amount of investments over time, whether the market is up or down, you can build a disciplined investing habit and lower the stress that can come from market movements.
One of Plynk's most interesting features involves, of all things, gift cards. Specifically, you can redeem unused gift cards for money that you can use to buy stocks in your favorite companies.
→ How to get your combined bonuses with Plynk
If this sounds interesting to you, consider opening an account with Plynk. To make it more worth your while, they have a few special offers.
Simply open an account and link your bank account to get a $10 signup bonus. Plynk is also offering a special bonus promotion through Dec. 14, 2023. If you make a deposit, Plynk will double it up to $75. Customers must have a minimum of $25 in net deposits during the promotional period to receive a match. That means you may be eligible for up to $85 in signup bonuses from Plynk by taking qualifying actions.
Related: 7 Best Wealth + Net Worth Tracker Apps [View All Your Assets]
Moomoo ($45-$30,000 in Free Stock + 1 Free Share of TSLA or GOOG)
---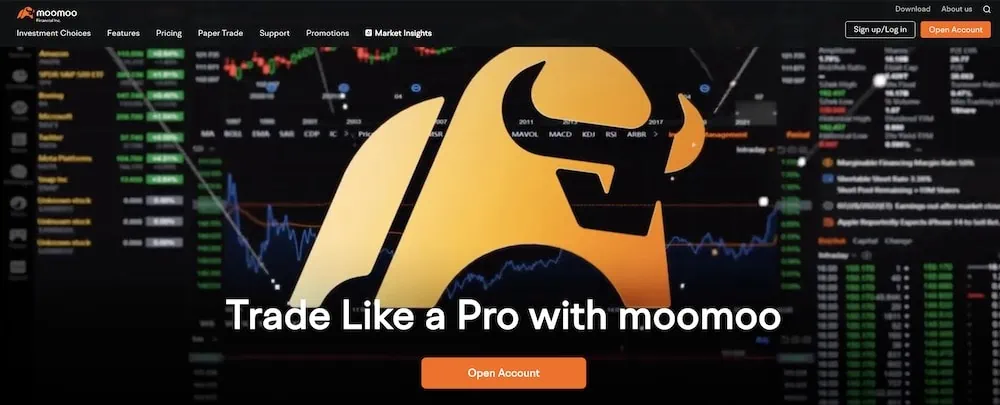 Available: Sign up here
Platforms: Desktop app (Windows, Mac), web, mobile app (Apple iOS, Android)
Promotion: 15 free stocks, each valued between $3-$2,000, plus a share of Tesla (TSLA) or Alphabet (GOOG)
Moomoo is a commission-free trading platform for stocks, ETFs, and options. While Moomoo is best for advanced traders, offering powerful tools to empower your trading insights and strategies, it takes a different approach from other similarly targeted platforms, favoring simple interfaces and high ease of use. The desktop platform is highly customizable, while the mobile app is straightforward, allowing you to search for stocks and trade with minimal hassle.
Still, Moomoo has more than enough under the hood for advanced traders to get the job done. Its charting system, for instance, includes 62 technical analysis indicators and 22 drawing tools. You can set up alerts based on changes in price, bids, turnover ratio, and more. Free Level 2 market data helps you get a greater understanding of a stock's value, determine how liquid a stock truly really is, and better time your trades. You can even enjoy 24/7 financial news handpicked by Moomoo's editorial team.
→ How to get your free money on Moomoo
You can receive up to 15 free shares (collectively worth anywhere between $45 and $30,000) and an extra share of Tesla (TSLA) or Alphabet (GOOG) from Moomoo. Here's how:
If you open a new brokerage account with Moomoo and fund it with $100, you'll earn five free stocks valued between $3 and $2,000 each.
If you make a net deposit of $1,000 or more in the promotion period, you'll get a total of 15 free stocks valued between $3 and $2,000 each.
If you make a net deposit of $5,000 or more in the promotion period, you'll get a total of 15 free stocks valued between $3 and $2,000 each, as well as one free share of either TSLA or GOOG.
Enjoy these free bonus shares by opening an account with Moomoo through our link and making a qualifying deposit.
Related: 21 Best Stock Research & Analysis Apps, Tools and Sites
2. 401(k) Matches
---
A 401(k) match, if offered by your company, is one of the easiest ways to get a notable amount of free money. Remember: These employer-sponsored retirement accounts already help you financially because of their tax advantages. But many employers also will match your 401(k) contributions, up to a predetermined percentage or dollar amount.
Let's pretend your company offers a 100% match on contributions up to 3% of your annual income. If you make $70,000 per year and contribute 3% to the account, you would be contributing $2,100. Your company would then contribute an additional $2,100 to your account—with no extra work needed from you. So while you might not always max out your 401(k), I suggest at least contributing up to what your company will match.
After all: It's free money!
3. Bank Account Sign-Up Bonuses
---
It's also very common for banks to offer modest sign-up bonuses, typically on checking and savings accounts.
SoFi Checking and Savings Account (Up to $250 in Free Cash)
---
Available: Sign up here
Platforms: Web, mobile app (iOS, Android)
Promotion: Earn $50 to $250 in free cash
The SoFi Checking and Savings Account sounds like your run-of-the-mill bank account, but it's more: It's also a high-yield savings account that earns 10 times the national average percentage yield (APY) and more than the average high-yield account. Better still, it boosts your ability to save right off the bat by rewarding you with $50 to $250 upon sign-up.
Sofi Checking and Savings covers all of the basics: No monthly account fees, no minimum balances, and website and mobile app access. But it also has several perks that match or top the competition. Features include:
Early paycheck reception when you sign up for direct deposit
FDIC insurance of up to $2 million (vs. $250,000 for most bank accounts)
Up to 15% cash back when you spend with local retailers
No-fee overdraft coverage up to $50
Round-ups on debit card purchases, which are deposited into your savings "Vault"
And right now, you can get a head-start on your savings with qualifying direct deposits. You'll receive $50 in bonus cash if $1,000.00 to $4,999.99 is sent to your bank account within a 25-day period, starting from when you receive the first direct deposit. That number jumps to $250 when you receive $5,000 or more. The higher cash bonus requires you to hit an admittedly high threshold, but the $50 is a reasonable bonus for a much more manageable threshold.
Want to get started on your cash bonus? Sign up with SoFi today.
4. Shopping Rewards
---
If you're going to shop anyways, why not earn some free money online while you're at it? Let's look at apps that dole out shopping rewards.
Capital One Shopping (Save Money on Shopping)
---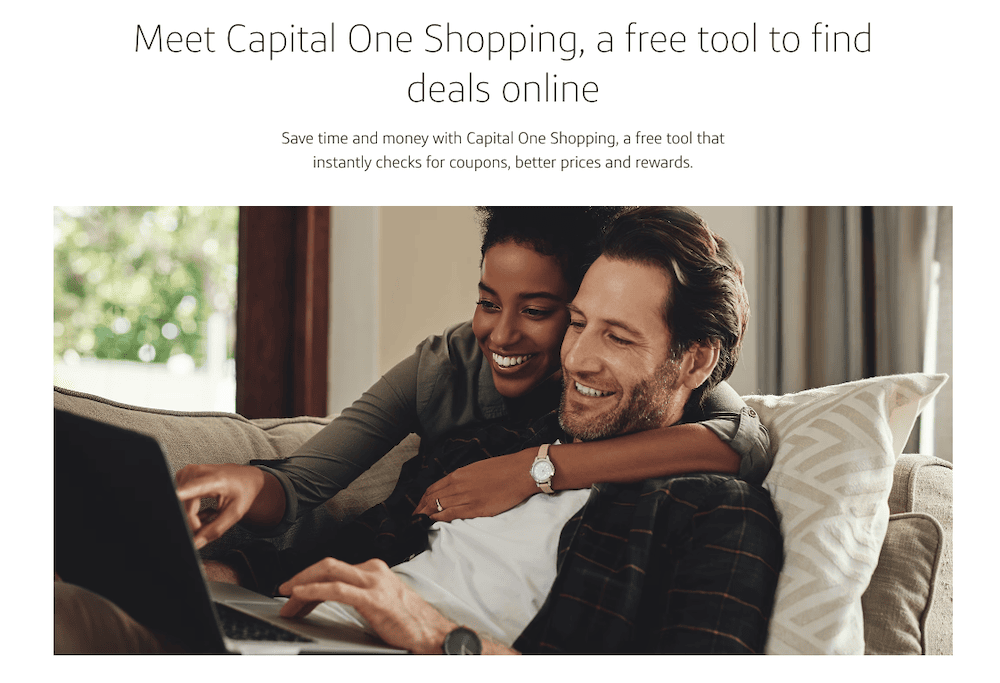 Available: Sign up here
Platforms: Web, mobile app (iOS, Android)
Want help on saving real money within seconds? Install the Capital One Shopping app, log into the website or download the Chrome browser extension, and it will search for discounts and promo codes while you shop, and apply any of the deals it found to your cart.
Users can also put items on their watchlist so they're notified when the price drops or it goes on sale. Additionally, whenever you see an item you want on Amazon, the app can let you know right away if there is a better deal available.
This app works with more than 100,000 stores, and you don't need to be a Capital One credit card holder to use it.
Rakuten ($10 Bonus)
---

Available: Sign up here
Platforms: Web, mobile (iOS, Android, Galaxy Store)
Promotion: $10 sign-up bonus
Rakuten (formerly known as Ebates) has become one of the most popular apps among shoppers because of the rewards and savings it offers when you buy through the app. To date, it has paid members more than $2 billion via cash-back rewards.
To take advantage of the shopping savings, you can either shop through Rakuten's online platform or install the Rakuten Chrome browser extension, which identifies potential shopping savings as you browse online retailers. Rakuten leverages its massive scale to extract affiliate revenue from more than 2,500 retailers—when you use Rakuten to get shopping savings, brands pay Rakuten a commission, which it then shares with you every three months (an admittedly infrequent payout schedule) via PayPal or check.
Currently, if you sign up with Rakuten, you'll receive a $10 bonus.
5. Passive Income: Interest on a High-Yield Savings Account
---
If you want to receive a continuous stream of free money, you'll want to look into earning passive income—money that just trickles in without you having to do anything.
One of the most basic, easiest-to-access forms of passive income comes from a high-yield savings account. As the name suggests, these accounts earn far more money than a standard savings account. And as long as you're not paying any monthly fees, any income you earn from the account is effectively free money.
Save With Step (Earn 5% Annually)
---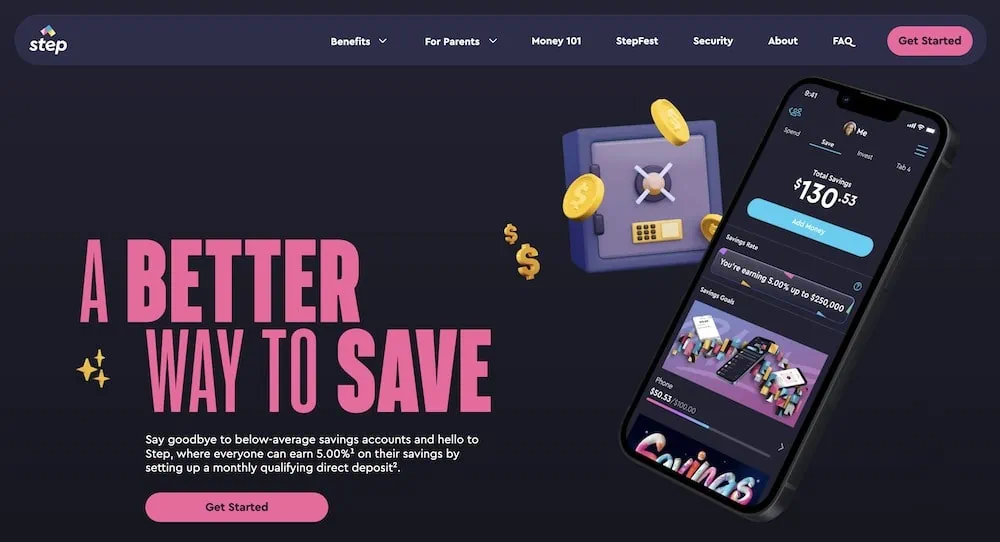 Available: Sign up here
Platforms: Mobile app (iOS, Android)
Step, made popular by its unique "hybrid" Step Visa Card, has expanded its offerings to include a powerful high-yield savings tool.
Users earn 5% annually—compounded and paid monthly—on up to $250,000 saved in their Savings Goals, calculated using the average daily balance in your Savings Goals. Like with your average savings account, Step's savings yield can change depending on movements in the Federal Funds Rate, but if that happens, Step will give you 30 days' notice before it happens.
To qualify, the user must have a direct deposit of at least $500 per month, and the benefit extends for as long as the direct deposits continue. (Other perks of making qualifying direct deposits? Bonus points on dining, food delivery, charitable donations, specific merchants—and you can get paid up to two days early.)
And remember: When you sign up with Step, you also get their Step Visa Card—a spending card that functions like a debit card, but also boasts some of the features of a Visa credit card—including the ability to build your (or your child's) credit history. You can't spend money you don't have, eliminating the fear of overdrafting. The card can be used to withdraw money fee-free at more than 30,000 ATMs, and it's protected by Visa's Fraud Protection and Zero Liability guarantee.
Users age 13 and older can also buy and sell stocks, ETFs, and Bitcoin. Sign up for high-yield savings with Step today.
Read more in our Step Banking review.
6. Free Cryptocurrency
---
As I mentioned above, many online brokers frequently offer free stocks or cash as sign-up bonuses. However, on occasion, they also try to reel in customers by offering free cryptocurrency.
SoFi Invest ($10-$100 in Free Bitcoin)
---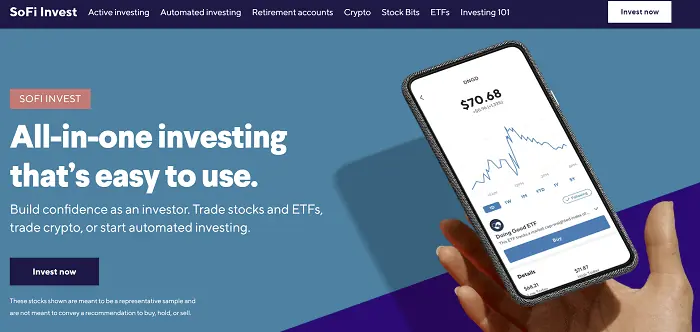 Invest as actively or as passively as you'd like with SoFi Invest.
The Active SoFi Invest Brokerage Account has no required minimum balance, charges no commissions on stock, ETF, and options trades, and its options trading is free of contract fees, too. SoFi also offers 24/7 trading of 30 cryptocurrencies, access to initial public offerings (IPOs), and fractional stock buying for as little as $5.
Want to put your portfolio on autopilot? SoFi's robo-advisory services will create a portfolio for you free of charge (that can be designed to address one or several goals) and auto-rebalance it for you as necessary over time.
And one thing that sets SoFi apart is your ability to handle many financial tasks within the very same app. SoFi's app allows you to tackle anything from banking and investing to student loans, insurance, and mortgages.
→ How to earn free Bitcoin from SoFi Invest
You can earn between $10 and $100 worth of Bitcoin when you sign up and make your first cryptocurrency trade. Here's how:
Open a new account with SoFi.
Buy a minimum of $50 worth of any cryptocurrency within seven days.
The following trade sizes earn the corresponding Bitcoin bonuses:
$50-$99.99 earns $10 worth of Bitcoin.
$100-$499.99 earns $15 worth of Bitcoin.
$500-$4,999.99 earns $50 worth of Bitcoin.
$5,000 or more earns $100 worth of Bitcoin.
In addition to free crypto, SoFi Invest also gives free stock in a second way to earn free money through the investment platform.
Related: How to Get Free Stocks for Signing Up: 15 Apps w/Free Shares
7. Credit Card Sign-Up Bonuses
---
Many premium credit cards offer sign-up bonuses for new users who spend a minimum amount of money within a predetermined time frame. Assuming users only make purchases they would have regardless of the new card, the sign-up bonus is free money.
However, some credit cards have a potential catch: Namely, those with generous sign-up bonuses often charge an annual fee. While this fee is usually waived the first year, it can eat up one's sign-up bonus later. My advice? Ignore great promotional freebies on annual-fee cards, and instead seek out simply good bonuses on no-fee cards.
Chase Freedom Unlimited ($200 in Free Money)
The Chase Freedom Unlimited credit card has no annual fee. Its current sign-up bonus is a healthy $200 in free money as long as you spend $500 on qualified purchases within the first three months. That $500 threshold is quite low compared to many other credit card sign-up bonus requirements, which can range into the thousands of dollars—putting you at risk of drowning in credit card debt just to nab a bonus.
Chase Freedom Unlimited also offers generous cash-back rewards:
5% cash back on travel purchases booked using the card through the Ultimate Rewards program.
3% cash back on purchases at drugstores and restaurants
1.5% cash back for every $1 spent in all other categories (excluding gambling).
Points never expire as long as the account remains open.
Related: 50+ Best Money-Making Apps That Pay You Real Money
8. Utility Energy Efficiency Programs
---
Utility energy efficiency programs try to help people use less energy while still fully meeting their energy needs. Consuming less energy reduces energy bills, lowers greenhouse gas emissions, helps utility planners manage energy supply, and more.
The programs available to you depend on where you live, as states have their own programs that often complement federal energy efficiency programs. I suggest checking with the Database of State Incentives for Renewables & Efficiency—an excellent resource for finding policies and incentives (including any free money opportunities) that your state offers.
9. Cash-Back Apps
---
Cash-back apps are simple: Spend money, then get some of it back.
GoCashBack ($8 Bonus)
---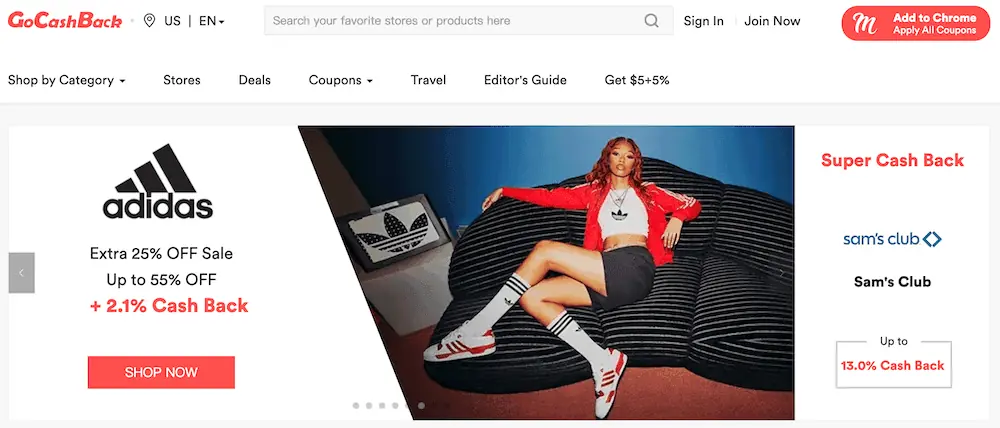 Available: Sign up here
Platforms: Web, mobile app (iOS)
Promotion: $8 sign-up bonus
GoCashBack is a cash-back app trusted by more than 700,000 users who've collectively earned more than $8 million in rewards. The free platform allows users to shop online at retailers like eBay, Walmart, Home Depot, Macy's, GNC, and more, and get up to 40% back on their purchases. (However, actual cash-back rates are more commonly in the low- to mid-single-digit range for most offers.)
You can shop through GoCashBack's website or app, or use their Chrome browser extension to claim coupons and deals through various participating retailers. You can use their GoCashBack app to check your cash-back status from anywhere and click through while on the go to save when you shop on your phone. You can withdraw via PayPal, check, and gift cards.
Get an $8 sign-up bonus today for joining GoCashBack.
Upside (Earn Cash Back)
---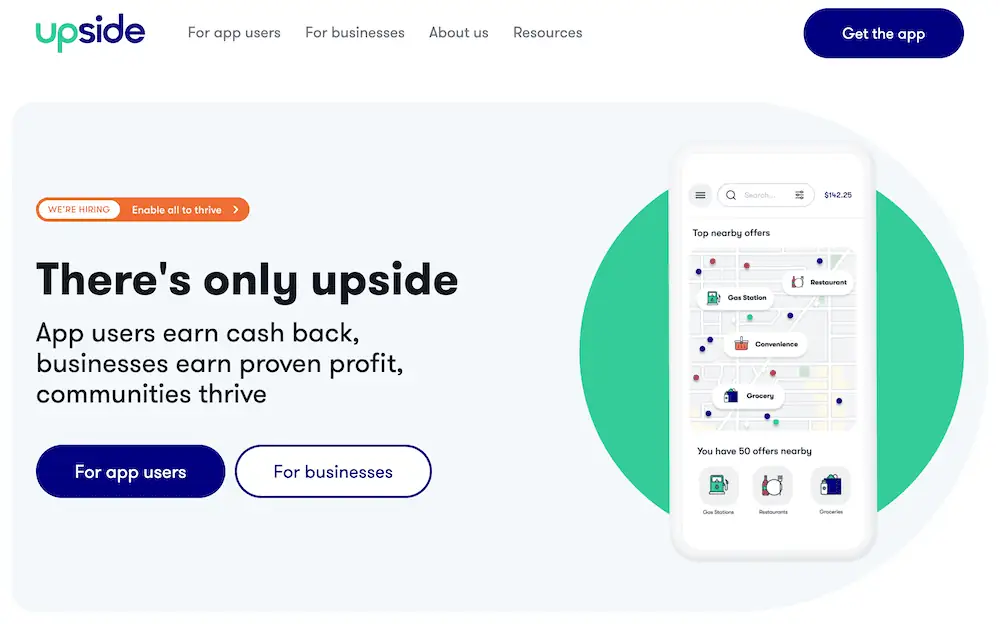 Available: Sign up here
Platforms: Mobile app (iOS, Android)
Upside lets users earn cash back on purchases with minimal extra effort.
Upside can provide cash back at grocery stores, restaurants, gas stations, and more, and it can work alongside other discounts, coupons, and loyalty programs. And there's no limit to how much you can earn.
Here's how it works: You claim an offer through the app, then pay as you normally would with a credit card or debit card. From there, you either "Check In" your purchase (or upload a photo of the receipt), and cash back will be deposited into your Upside account. Finally, you can cash out as you wish via e-gift card, PayPal cash, or bank transfer.
10. Survey Sites
---
Get cash just for sharing your thoughts through paid survey sites. It's not exactly the most lucrative side hustle, but it is a way to earn money with virtually zero effort.
Survey Junkie (Paid Surveys)
---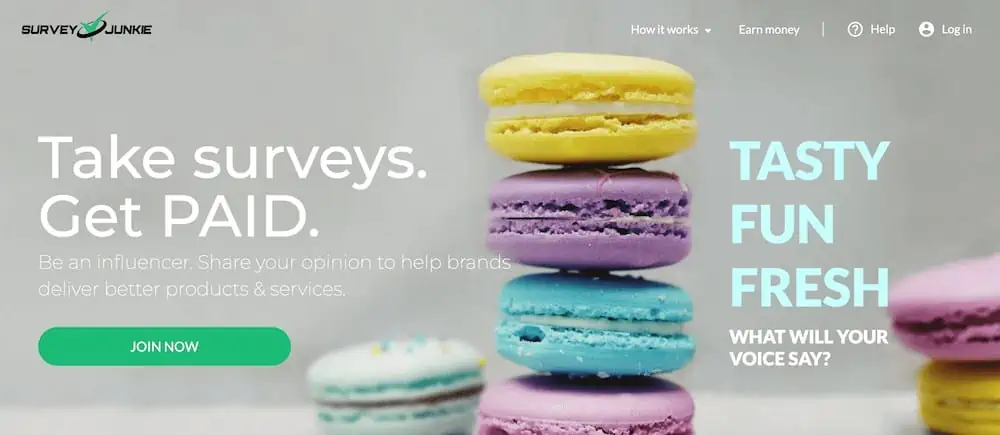 Available: Sign up here
Platforms: Web, mobile app (iOS, Android)
Survey Junkie is a paid-survey service that's trusted by millions of users. The platform matches users with surveys that are most relevant to them. You complete surveys on your own time and earn points for doing so.
Each point earned through Survey Junkie is worth 1 cent. Once you have at least $5 worth of Survey Junkie points, you can redeem them for virtual gift cards from popular merchants including Starbucks, Target, and iTunes. You can also get Visa gift cards or even receive cash back via PayPal or bank transfer.
 Branded Surveys ($1 Bonus)
---
Available: Sign up here
Platforms: Web, mobile app (iOS, Android)
Promotion: $1 sign-up bonus
Branded Surveys has paid out more than $36 million to more than 3 million users.
The surveys made available to you will depend on your interests and profile information, as well as what research partners currently need. Each survey earns points; you can cash out once you've accumulated at least 500 points. Depending on survey length, users make anywhere from 50 cents to $5 per survey.
You can use your points toward gift cards from more than 100 brands, receive cash in your PayPal or bank account, or even make a charitable donation.
Swagbucks ($10 Bonus)
---
Available: Sign up here
Platforms: Web, mobile app (iOS, Android)
Promotion: $10 sign-up bonus
Swagbucks is one of the most popular money-making apps because it allows you to earn cash or gift cards by doing everyday activities. For example, you can make money by taking online surveys, playing games, watching videos, even doing live trivia.
To get started, sign up for a Swagbucks account and begin participating in some routine tasks offered through the app. Each task earns you "SB" (Swagbucks), which you can cash in for gift cards or redeem for free PayPal money.
You can earn a free $10 bonus for signing up. You can earn additional money by referring friends to the app, too.
11. Online Games
---
Companies need to conduct user testing, and they'll pay to have it done. All you need to do is find paid gaming opportunities through a website that connects companies to players.
Scrambly (Play Games, Try Apps, Earn Money)
---
Scrambly lets you play games to earn rewards. Users test companies' products on their phones with various in-game steps. In exchange for testing the apps and playing online games, they get coins. These can be exchanged for gift cards or cash back to a PayPal account.
To earn rewards faster, people can also take surveys and invite friends. When you recruit friends, you get a commission on their lifetime earnings.
There is no minimum or maximum amount of time you have to spend. You can do this occasionally for just a bit more spending cash or more frequently to rack up rewards faster.
12. IRA Matches
---
Individual retirement accounts (IRAs) are another type of retirement account that enjoys certain tax benefits. However, unlike with 401(k)s, which are run through employers and often offer a match, you directly open up an IRA through a broker, and brokers typically don't offer matches on IRA funds.
Robinhood, which is known for being ahead of the curve in offering new features, now offers a match for users. Robinhood matches up to 1% of your contributions (or 3%, if you subscribe to Robinhood Gold) on its own—allowing you to save money for retirement even faster!
Robinhood (1% or 3% IRA Match)
---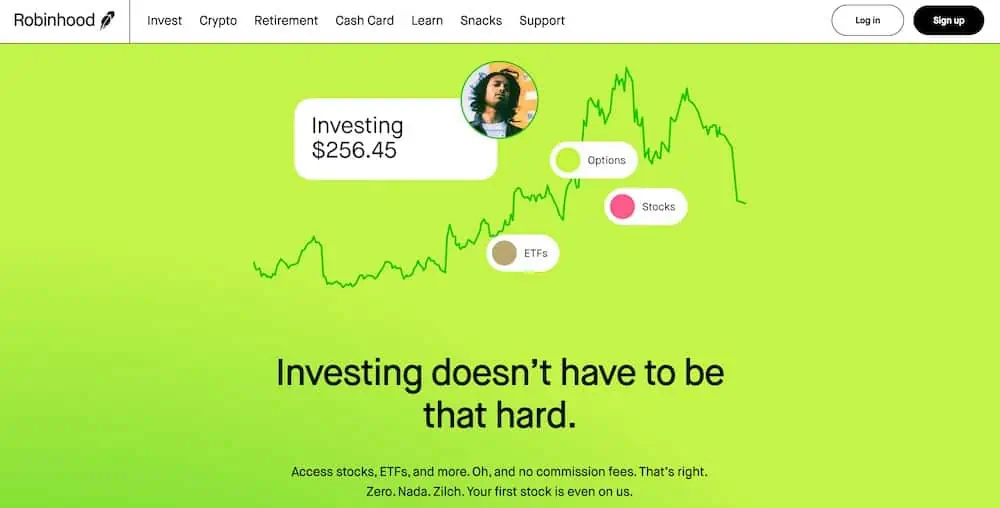 Available: Sign up here
Platforms: Web, mobile app (Apple iOS, Android)
Promotion: 1% match on IRA contributions (3% match with Robinhood Gold)
Robinhood has evolved from a bare-bones app appealing to mostly beginner investors to a fuller-featured account suitable for a wider range of experience levels. For instance, Robinhood now offers individual retirement accounts (IRAs) and Roth IRAs via Robinhood Retirement.
And Robinhood is back to innovating by becoming the first IRA to offer a match on contributions.
→ How to get your free money in an IRA on Robinhood
If you open up an IRA with Robinhood Retirement, Robinhood will match 1% of any IRA transfers, 401(k) rollovers, and annual contributions to your account—and 3% if you pay for the Robinhood Gold service ($5 per month)—typically almost immediately after you make your contribution. Better still: Any matches made on annual contributions don't count toward your contribution limit. So for instance, if you're under age 30 in 2023, and contribute the maximum allowable $6,500 …
If you have a Robinhood Retirement account, Robinhood would match 1%, giving you an additional $65 in IRA funds.
If you have a Robinhood Retirement account and subscribe to Robinhood Gold, Robinhood would match 3%, giving you an additional $195 in IRA funds. (That's $130 more than the normal account, more than paying for the $60 per year you'd spend on Robinhood Gold.)
(Friendly message from your WealthUp tax expert: The reason the IRA match doesn't count toward your annual IRA contribution limit is because Robinhood treats it as interest income in your IRA.)
Robinhood's IRA itself doesn't offer as many investment options as other brokerages' IRAs (for instance, you can't get mutual funds through Robinhood), but if all you need is stocks and exchange-traded funds, it will get the job done. Also, you can choose your investments yourself, but Robinhood's Portfolio Builder can also provide you with a custom recommended portfolio made up of five to eight ETFs.
Get your free IRA money by signing up for a Robinhood retirement account today.
Related: 13 Best Stock Picking Services, Sites, Advisors and Subscriptions
13. Apply for Scholarships
---
If you're headed off to college, you have access to one of the biggest free-money opportunities of all: scholarships. Scholarships are financial awards that help students pay for college—some are merit-based (school grades and test scores), some are based on financial need, and still more are awarded to specific groups of people.
Scholly
You've already done the hard parts of completing coursework, taking college entrance exams, and more. Scholly, which has already helped students earn more than $100 million, makes it easier to turn your academic accomplishments into scholarships.
The app matches users with personalized scholarships, funds, and grants. It creates a prioritized list of active scholarships that can be sorted by due dates, effort level, and how much the scholarship is worth.
Scholly can save people an endless amount of time and help them find the scholarships they are most likely to win. It also tracks applications.
Scholly is open to users who are about to enter college, are already in college, or have graduated. A membership gives users full access to the Scholly Search app. Users can try out the app with a free three-day trial. After that, you must purchase a subscription at $4.99 per month, $24.99 for six months, and $34.99 for a year.
14. Refer Friends to Various Services
---
Have a service you love using? That service wants more customers—and many will happily pay you for referring others to use them. (Don't believe me? Well, services like Uber and Airbnb grew in popularity in large part because of their referral programs!)
Interestingly, service referrals involve free money not just for you, but whoever you're referring. For example: Let's say you refer a friend to your favorite hair stylist; you and your friend might both receive $20 coupons. (Just make sure you're only referring people to services you actually enjoy; otherwise, you're going to annoy your friends.)
15. See If You're Due a Refund / Check Eligibility for Tax Credits and Deductions
---
Millions of tax refunds go undelivered or unclaimed each year. If you were expecting a federal tax return that never arrived, use the government's Where's My Refund? page.
It's also worth checking to see if you're eligible for various tax breaks for the current tax year, such as the earned income tax credit or various educational tax credits and deductions.
How to Get Free Money: FAQs
---
Do I need to pay taxes on free money?
I wish I could give you a one-size-fits-all answer to whether you need to pay taxes on free money—but it depends on the type of free cash you've received.
For instance, you're supposed to pay taxes on sign-up bonuses. However, free money in the form of college scholarships is typically tax-free as long as the student uses the funds to pay for qualified educational expenses at an eligible institution.
So, whenever you receive free money, always check to see whether that specific type of money is taxable.
How can I find unclaimed money?
Unfortunately, there is no singular government database for all unclaimed funds. However, there is a USA.gov page that provides you with links to various databases or agencies where you can find unclaimed money that you might be owed for a variety of reasons. (You might be owed unclaimed money from employers, insurance companies, investments, bank failures, savings bonds, bankruptcies, and more.)
Is there a catch when you get free money?
All of the ways to get free money that I've listed in this article are crystal-clear about what you need to do to receive that money. So as long as you understand what's required of you, there is no catch.
But if you're looking at other ways to earn free money, read the instructions and fine print carefully. Many scams promise that you'll win money but end up having you send sensitive information (or even money!) to disreputable companies or individuals.
How else can I earn extra money?
You can always work more, but I suggest trying to layer the free money you're able to earn. For instance, one of the best ways to get extra money is through passive income streams and investments, such as high-yield savings accounts and dividend stocks. The best aspect of passive income streams is that they aren't a one-time deal—they can continuously make you money.
Can I redeem gift cards for other money?
Yes! Don't let gift cards you'll never use go to waste! Whether a relative got you a gift card for a store you don't enjoy, or you have too little left on a gift card to make good use of it, you can still make use of your unused balance.
Plynk™ lets you earn free cash by redeeming unused gift cards for money that can be used to buy investments such as stocks and funds.
---
Moomoo disclaimer
Moomoo's parent company is Nasdaq-listed Futu Holdings Ltd (FUTU). Their subsidiaries are licensed and regulated in the United States, Singapore, Australia and Hong Kong.
---
Plynk Disclosures
Google Play Store and Apple Store Ratings are as of the date referenced (06/22/2023) and provide an average rating of users and do not reflect the experience of an individual customer.