Many Americans aren't putting enough money into savings.
According to 2022 Federal Reserve data, 37% of Americans don't have the liquid assets available to cover an emergency expense of only $400. But our savings woes aren't just short-term in nature: The U.S. Department of Labor found that only half of Americans have calculated how much they'll need to save for retirement.
In some cases, Americans simply don't have the capacity to save—their income is only enough to make ends meet, and sometimes, it's not even enough for that. But some Americans do have the financial means to save; they just need a little discipline and a plan that works for them.
A reverse budget strategy can make it easier to save and invest. So, read on as I explain what reverse budgeting is, how it works, the pros and cons of this budgeting strategy, and more. My goal is to help you decide if this budgeting style might work for you and, if so, how to get started.
How Does Traditional Budgeting Work?
---
Traditional budgeting focuses on expenses and allocating your income to various expense categories. This strategy has you look at how you spent money the previous month or year to help you determine how much money goes into each category. In other words, it looks at past spending to plan for future spending.
For example, you might look back at bank account statements and calculate how much you usually spend each month dining out. If you need to "tighten" your budget, you would then think of ways to reduce that cost, such as going out less frequently. If you spent $100 on DoorDash last month, you could decide to dine in and save that money instead.
"What about saving?" Well, with traditional budgeting, saving comes last. Once you've budgeted for your essential and discretionary spending, whatever is left over is what you're able to save. Because of that, tightening a traditional budget often starts with reducing/killing saving before ever touching discretionary funds.
What Is Reverse Budgeting?
---
Reverse budgeting differs based on how it treats saving. It uses a "pay yourself first" method when it comes to your financial obligations, demanding that you save before setting aside money for non-essential monthly expenses.
What Does It Mean to Pay Yourself First?
---
Paying yourself first means that you prioritize saving and investing goals over recreational spending. But technically, you don't pay yourself first.
First, like with a traditional budget, you calculate your essential expenses and subtract that from your net income. You then determine the savings contributions you'll make. Whatever's left after essential spending and saving can be used for recreational spending.
Much of this can be done automatically to help you stay on track to reach your financial goals.
Related: 7 Best Wealth + Net Worth Tracker Apps [View All Your Assets]
How Does the 'Pay Yourself First' Budgeting Strategy Work?
---
It's not difficult to create a 'Pay Yourself First' budget. Follow the steps below to create a reverse budget.
#1: Calculate Your Essential Expenses
Some expenses—such as rent, utilities, car insurance, and more—are unavoidable. You need to spend on those items. And depending on the cost of living in your city, these everyday expenses can vary greatly.
Pretend you're a single person and your monthly salary (after taxes and paycheck deductions) is $4,500. Your monthly essential expenses add up to about $3,250. That leaves $1,250 for your savings goals and recreational spending habits.
#2: Decide How Much to Pay Yourself
Once you know how much money you'll have left after accounting for living expenses, you can choose how much to pay yourself.
"How much should I pay myself first each month?" I wish I had a simple answer for you, but sadly, this isn't a one-size-fits-all solution. The amount depends on your financial situation and the ambitiousness of your financial goals.
For simplicity's sake, let's say your reverse budgeting plan is to allocate half of non-essential money toward your personal finance goals. That means the first $625 goes into your savings, then the remaining $625 is for discretionary spending ("fun money").
#3: Create Savings Goals
I suggest you establish savings goals for numerous time horizons.
The first goal you should set is building an emergency fund (if you don't already have one). A good rule of thumb is to have three to six months' worth of living expenses set aside in case of emergencies.
Past that, establish short-, medium-, and long-term savings goals. Here are a few examples:
A short-term savings goal might be to save enough for a vacation next year.
A medium-term savings goal might be to save for a home down payment in three years.
And the most common long-term savings goal is retirement.
The number of savings goals in a reverse budgeting plan will vary by person, and so will the amount allocated to each goal.
Don't feel like you have to fund every goal at once—or even equally. Your savings should work for you, not the other way around. You can fund goals at different rates according to your priorities at any given time.
#4: Adjust as Necessary
Be flexible and reassess your budget when needed.
It will take some trial and error to find the right amount of money to set aside. Also, life changes. You might get a promotion that increases your monthly income, you might face unanticipated expenses, or you might have to change your priorities.
Your budget doesn't have to be rigid; it can be malleable. If your current reverse budget isn't working for you, change it into one that will.
One thing that helps: Having separate checking and savings accounts, or having a financial app with separate spending and saving buckets:
Fidelity Bloom
---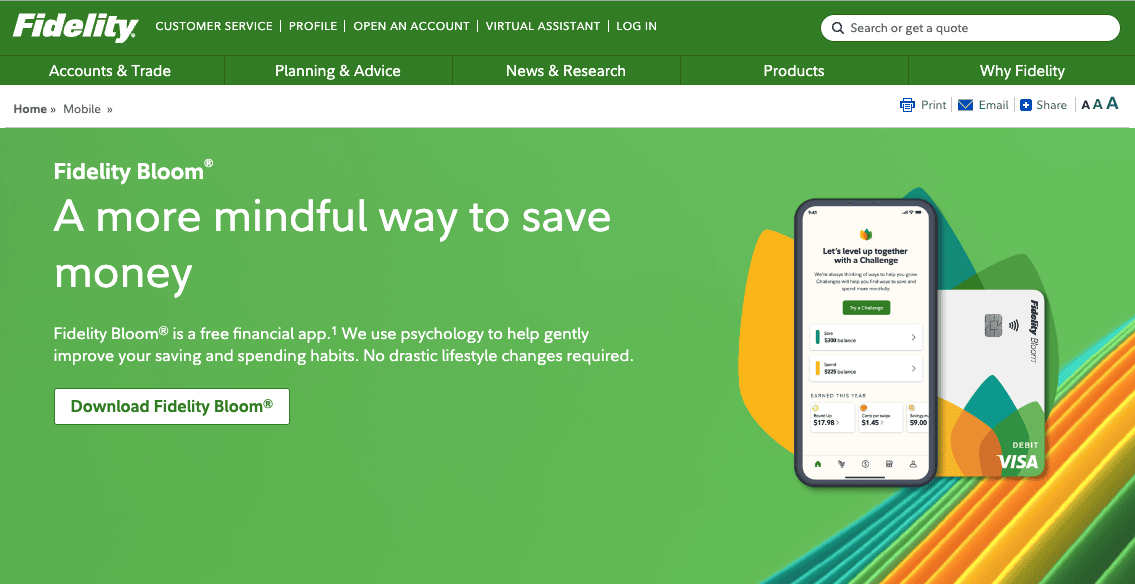 Available: Sign up here
Price: Free (no monthly fees)1
Platforms: Mobile app (Apple iOS, Android)
Fidelity Bloom® is a unique free mobile app and debit card that comes with two brokerage accounts—one for saving, one for spending—and pays you to save. Fidelity Bloom® aims to simplify your finances by separating your savings from your day-to-day spending money. The app also helps you build better financial habits by educating you about your spending and motivating you to save more.
When you download Fidelity Bloom®, you're opening two brokerage accounts: Fidelity Bloom® Spend and Fidelity Bloom® Save. Spend is an account for your day-to-day spending, while Save helps you grow your savings. The accounts have no monthly fees, nor are you required to make a minimum deposit to open them.
Fidelity Bloom Spend
The Spend account is linked to a Fidelity Bloom® debit card that can be used wherever Visa cards are accepted. The debit card has a flat 10-cent cash-back reward on every purchase—a small nominal amount, but one that translates into a high amount on small purchases. (For instance, 10 cents on a $10 purchase is effectively a 1% cash-back reward, which is generous for a debit card.)
Fidelity Bloom® also offers cash-back shopping with more than 1,000 popular retailers. You can use this feature through the app, or through your browser. Desktop/laptop users also have access to the Fidelity Bloom® Cash-Back Rewards Browser Extension—a Chrome extension that alerts you to potential rewards when you're visiting a participating site, and that displays reward rates while you're searching in Google.
Your Fidelity Bloom® debit card also comes with customizable round-ups that allow you to round up purchases by either adding a set dollar amount ($1 to $10) or a percentage of the purchase price (1% to 10%). Any time you use your Spend card, your round-up amount will be deposited into your Save account.
Fidelity Bloom Save
The Fidelity Bloom® Save account helps you keep your savings separate from your spending money. But it also goes one step further by helping you build your savings. Fidelity Bloom® will automatically match 10% on up to $300 saved annually in Fidelity Bloom® Save accounts, good for a potential maximum yearly reward of $30.
Other Features
Gift card exchange. Have a gift card sitting around with $10 or more in unused funds? Fidelity, through third-party provider CardCash, allows you to convert that gift card into cash that's deposited into your Save account.
Potentially earn yield on your funds. Uninvested cash you deposit into your Fidelity Bloom® accounts is invested in one of three money market mutual funds—a low-risk way to help earn additional yield.2
Direct deposit. Your employer can send wages directly to one of your Fidelity Bloom® accounts.
Recurring transfers. Put your savings on autopilot by setting up recurring automatic transfers from your Spend account to your Save account.
Money lessons and activities. Fidelity Bloom's® "Challenges" teach you research-based concepts and skills that help you change your saving and spending habits.
One small technical note that users should be aware of: While Fidelity Bloom® Save and Fidelity Bloom® Spend act like checking and savings accounts, they're actually brokerage accounts. Rather than Federal Deposit Insurance Corporation (FDIC) insurance that you'd get with a traditional bank account, you receive Securities Investor Protection Corporation (SIPC) coverage. Fidelity Bloom® accounts are covered for up to $500,000 of securities, including up to $250,000 in cash.
Read more in our Fidelity Bloom® review.
Best Automatic Savings App
Fidelity Bloom | Get Paid to Save
Fidelity Bloom

®

is a free mobile app and debit card that helps you organize your finances by separating your savings from your day-to-day spending money—and pays you to save.

The Fidelity Bloom

®

Spend account is linked to a debit card usable wherever Visa is accepted. Enjoy a flat 10-cent cash-back award on every purchase, additional cash-back offers with more than 1,000 popular retailers, and customizable round-ups.

Fidelity Bloom

®

offers a 10% account match on up to $300 deposited annually to your Fidelity Save

®

Account, good for a maximum yearly award of $30. Also, all uninvested cash in both accounts is placed in a money market mutual fund, giving it the potential to earn additional yield.

²

Other features include direct deposit, recurring transfers to your Save account, and depositing unused gift card balances into your Save account.
Pros:
10% savings match on up to $300 deposited annually

Helps grow deposits by investing uninvested funds in money market mutual funds

Flat cash-back reward generous for smaller, frequent purchases

Direct deposit

Cash-back shopping

SIPC coverage
Cons:
Flat cash-back reward less generous for larger, more infrequent purchases

No ATM reimbursement
Related: 11 Best Free Investing Apps [Invest for Free]
What Does a Pay Yourself First Budget Look Like?
---
Your "pay yourself first" budget might look similar to the chart above. After your core expenses, you put money toward your savings goals before any other money gets spent. While your actual numbers will look different, the principle remains the same: Essentials and savings are prioritized before everything else.
Where Can You Save Money Using a Reverse Budget?
---
While your everyday money can remain in your checking account, money for savings should go elsewhere so you can earn more in interest and make your money work for you.
Different types of accounts pair well with different savings goals.
Savings Accounts
While an emergency fund isn't as fun to save for as a vacation or wedding, it's far more important. Without a fully funded emergency fund, you may have to go into debt to pay for unexpected expenses or even essential expenses if you lose your job unexpectedly. Rather than paying back debt, plus interest, it's better to use emergency fund money. So, start funding your emergency account now, if you don't already have one.
Rather than a traditional savings account, it's preferable to use a high-yield savings account for your short-term savings. A high-yield savings account is a popular place to store one's emergency fund because, in addition to earning interest, your money is liquid and thus can be accessed immediately in the event of an emergency.
Save with Step
---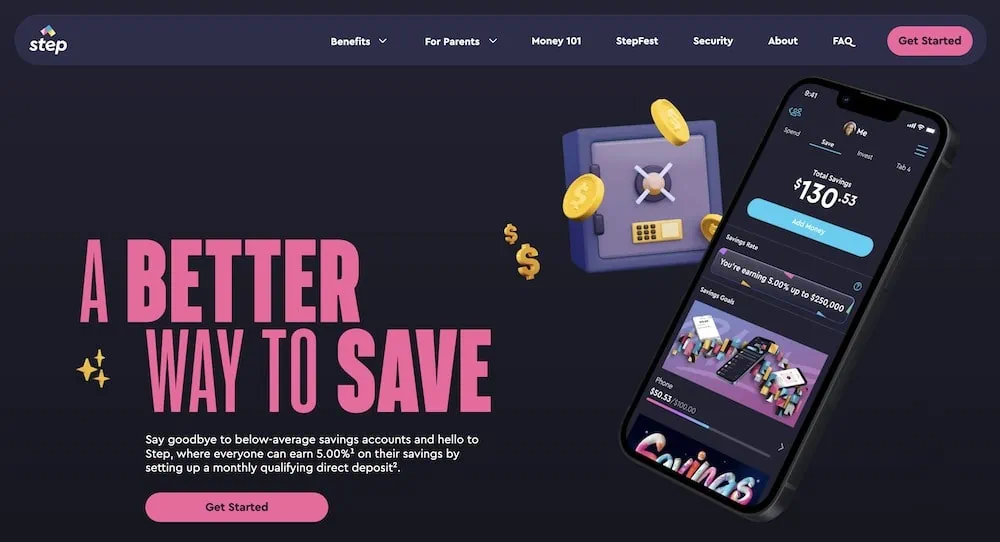 Step, made popular by its unique "hybrid" Step Visa Card, has expanded its offerings to include a powerful high-yield savings tool.
Users earn 5% annually—compounded and paid monthly—on up to $250,000 saved in their Savings Goals, calculated using the average daily balance in your Savings Goals. Like with your average savings account, Step's savings yield can change depending on movements in the Federal Funds Rate, but if that happens, Step will give you 30 days' notice before it happens.
To qualify, the user must have a direct deposit of at least $500 per month, and the benefit extends for as long as the direct deposits continue.  Other perks of making qualifying direct deposits? Bonus points on dining, food delivery, charitable donations, specific merchants—and you can get paid up to two days early.
And remember: When you sign up with Step, you also get their Step Visa Card—a spending card that functions like a debit card, but also boasts some of the features of a Visa credit card—including the ability to build your credit history. You can't spend money you don't have, eliminating the fear of overdrafting. The card can be used to withdraw money fee-free at more than 30,000 ATMs, and it's protected by Visa's Fraud Protection and Zero Liability guarantee.
High-Yield Savings + Credit-Building Card
Step | Banking for the Next Generation
Earn 5% annually on savings with Step, where you can save, spend, invest, and even build your credit history.
Step offers a high yield on up to $250,000 stored in Savings Goals.* While the savings rate can change, Step will provide a 30-day notice before it does.
Earn points that you can redeem for cash when you use your Step Visa Card at participating merchants.*
Buy and sell fractional shares of stocks, ETFs, and Bitcoin for as low as $1.
Send and receive money instantly, spend with Apple and Google Pay, and track your card's balance from the Step App.
Banking services, provided by Evolve Bank & Trust, are FDIC-insured for up to $250,000.
Pros:
High yield on money held in Savings Goals

Helps build credit

Free investment account for stocks, ETFs, and Bitcoin

Fractional investing for as low as $1

FDIC insurance
Cons:
High-yield savings only available with qualifying monthly direct deposit*

Can't directly deposit checks into a Step account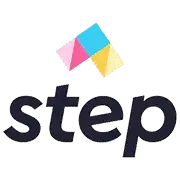 * Users must have a direct deposit of at least $500 per month to qualify. Benefits continue for as long as the user maintains the monthly $500 minimum direct deposit.
Related: 19 Best High-Yield Investments [Safe Options Right Now]
Investment Accounts
While you don't want to use an investment account to store short-term savings, it's an excellent place for long-term savings. Strategically invested, money has the potential to grow far more than money in savings accounts. It's possible to lose money in the stock market, but you can mitigate your risk by choosing safer investments and being prepared to wait out volatility.
Related: 11 Best Investment Accounts [Types for Beginners to Use]
Retirement Accounts
Contributing to an employer-sponsored retirement account, such as a 401(k), is one of the easiest ways to pay yourself first. Your retirement contributions can be automatically deducted from your paychecks. Always contribute at least up to any employer match as that is free money. You can also set up recurring bank transfers from your bank account to an IRA or other personal retirement account if you don't have access to a 401(k) or want to maximize your retirement savings.
Related: How to Max Out Your 401(k) + Other Retirement Accounts
Education Accounts
Any parent anticipating their child might want to attend college should consider opening an education account, such as a 529 plan. Higher education is expensive, so you want to start these accounts as early as possible.
Related: 7 Best Alternatives to 529 Plans [Other College Savings Options]
Is Pay Yourself First Budgeting Right for You?
---
For many people, paying yourself first works well as a budgeting strategy. It's a relatively simple method, and it's easily adjusted to meet your needs. However, for some people—like those with a variable income—reverse budgeting just might not cut it.
To decide whether this strategy is right for you, I suggest giving it at least a few months. One month is simply too short a time to evaluate this type of budgeting.
Related:
---
Terms and Conditions for Fidelity Bloom®
The Fidelity Bloom® app is designed to help with your saving and spending behaviors through your Save and Spend accounts, which are brokerage accounts covered by SIPC. They are not bank accounts and therefore are not covered by FDIC insurance.
The Fidelity Bloom® debit card is issued by Leader Bank, N.A., and the debit card program is administered by BNY Mellon Investment Servicing Trust Company. These entities are not affiliated with each other or with Fidelity, although, the parent company of Fidelity has a minority percentage, non-controlling interest in Leader Bank. Visa is a registered trademark of Visa International Service Association, and is used by Leader Bank pursuant to a license from Visa U.S.A. Inc.
Images are for illustrative purposes only.
1 The Fidelity Bloom® app is free to download. Fees associated with your account positions or transacting in your account apply. Accounts made available via the app may be subject to fees.
2 You could lose money by investing in a money market fund. An investment in a money market fund is not insured or guaranteed by the Federal Deposit Insurance Corporation or any other government agency. Before investing, always read a money market fund's prospectus for policies specific to that fund.
Fidelity Brokerage Services LLC, Member NYSE, SIPC, 900 Salem Street, Smithfield, RI 02917
---
Step disclaimer
Disclaimer: Step is a trademark of Step Mobile, Inc.